Caribbean Travel and the Weed from Hell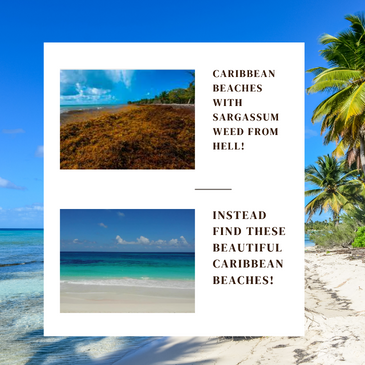 You've been looking forward to a winter vacation in the Caribbean for months, pouring over hotel information and Airbnb listings, checking airlines to find a cheap fare. (There are none). The day of your trip finally arrives, December, January, or whatever. You beat your way through TSA, suffer the cattle car air trip, and you are there, at what you are sure is the best place, the best value, near the best beach. You jump into a bathing suit, dash to the beach, ready to leave behind all stress in the warm welcoming waters of the Caribbean.
The beach is there alright. But at water's edge, stretching the whole length of the beach, no breaks anywhere, is a great stinking mass of seaweed, many feet deep, swarmed by insects you're sure are the biting kind. Looking out to sea you can't even see the water for what looks like forty or more feet. It's a brown sludge of seaweed that looks even thicker than what's on the beach, maybe four feet deep, too deep and heavy for a swimmer to push it aside and swim to open water. No one is swimming. The few beach-goers are camped at the top of the beach as far away as possible from the stink.
Still you may count yourself lucky depending upon which island you chose.
If you'd chosen the Virgin Islands, you'd have found a serious drought and that the water desalination plant on St. Croix, the major water source for the islands, is being blocked by the seaweed. The Federal Government has been asked to declare a Federal Emergency. (The Virgin Islands are a federal territory). Of course, you can always drink rum instead of water, though how do you shower in rum?
If you'd chosen Guadeloupe, you'd have had to hold your nose. Guadeloupe has issued a health alert for the high levels of hydrogen sulfide released by the rotting seaweed. Many respiratory issues and eye problems have developed, and the sulfide is corroding metal parts in dishwashers, refrigerators, and electrical appliances of villages near the coast.
If you'd chosen Union Island in the Grenadines, you would have found the resort you selected had to suddenly close because of dangerous levels of seaweed on the beach. Same in a number of other places.
If you'd chosen Barbados, you might find difficulty in getting a reasonably priced fish dinner. The Barbados fish industry is down 60%. Seaweed is preventing catches from shore, entangling fishing nets, and damaging boat engines.
In Martinique, there has been a fish kill of thousands of fish which adds the putrid smell of dead fish to the sulfurous smell of rotting seaweed.
If you'd chosen St. Martin, the ferry to the most popular offshore kayaking and snorkeling island can't get through the seaweed to the island.
Throughout the Caribbean dolphins and turtles are dying, prevented by islands of seaweed from surfacing for air. Endangered turtle species on islands like St. Vincent aren't able to get through the seaweed to lay eggs on the beach. When the seaweed dies offshore and sinks, it kills coral reefs and smothers under-sea meadows of seagrass, the abode of many marine species. It's the worst disaster in recorded history to hit the tourist industry in the Caribbean, also the east coast of Mexico, worse than hurricanes as these are limited in geography and duration, whereas the seaweed is a permanent blanket over the entire Caribbean. When will it end? Never.
WHAT'S GOING ON? The noxious weed is Sargassum weed, a type of brown algae floating on gas filled bladders that look like grapes. It throws out slimy, mucilage-covered tendrils sometimes yards long. Unlike seaweed we are used to in North America and Europe, it does not attach to rocks.. Sargassum weed propagates and lives on the open ocean. That's the problem. The whole southern Atlantic has become its incubator. East-blowing trade winds then carry it into the Caribbean, the air bladders acting as small sails.
Traditionally, Sargassum weed grew in the Sargasso sea. The names Sargasso Sea and Sargassum weed are Portuguese in origin, attributed to Portuguese sailors who sailed through the area on one of Columbus's voyages. The Sargasso sea is the only sea not touching land. Sitting in the North Atlantic it covers an area slightly smaller than Australia. Many parts of the Sargasso Sea are covered by floating islands of Sargassum weed. To explorers these islands were, "A Golden Floating Rainforest."
American and European eels breed in the weed, turtle hatchlings find sanctuary, hundreds of other species are protected, some of which are found nowhere else. Eighty one fish species use the weed in the Sargasso Sea for parts of their life cycles and many more reside there. The water is some of the clearest and bluest in the world. Sargassum weed eats up all impurities in sea water, and you can see down two hundred feet between patches of weed.
Prior to 2011 only small amounts of Sargassum weed penetrated the Caribbean, and then only occasionally. 2011 was different. A vast bloom of Sargassum weed appeared off the mouth of the Amazon River and swept north into the Caribbean. Was it nutrients from illegal farming in the Amazon? Increased run-off from deforestation? Global warming? Nobody knows, though it doesn't appear to be global warming as the blooms since 2011 have been largest when Caribbean water temperatures were coolest. What we do know is there's more weed each year, an estimated twenty four million tons of the weed this summer, 20% more than last year.
Now you've read this, and are thinking about canceling your plans for the Caribbean. DON'T CANCEL. BOOK.
The above is a warning. Warnings are only to tell one what to avoid. The Caribbean tourist industry needs you, and you mustn't deprive yourself of the joy of life that is the Caribbean.
It's a matter of picking your spot. Don't go to a resort or resort area with east facing beaches, or north or south facing beaches—unless there is a point of land sticking out that protects the beach from the westerly flow of seaweed. And don't go to a small island as the seaweed can wrap around a small island and completely surround it. Where does that leave us? The rundown below starts with the furthest west tourist islands, then east, then down the Lesser Antilles.
Cayman Islands. Most of the resorts are on Seven Mile Beach, facing west, and are well worth visiting. Little Cayman is very nice, but I wouldn't go there at this time because some areas are badly fouled. And if you are going to the Caymans for diving, be aware you will probably have to dive through mats of seaweed and visibility may be affected.
Jamaica. Montego Bay is in pretty good shape as the island humps north just to the east of Montego Bay which somewhat blocks seaweed flow. Negril is a special area facing west and even better. Ocho Rios has some seaweed problems, more in the water than on the beach.
Dominican Republic. Most of the resort hotels and other accommodations are in or around Punta Cana, east facing, and subject to surges of Sargassum weed. It's wonderful there but probably not a good choice.
St. Thomas. Properties on the eastern end near Sapphire Bay have a lot of seaweed. The Ritz Carlton and Marriott Frenchman are quite good about removing seaweed from their beaches. Still a lot is in the water. Better to go to the other end of St. Thomas and spectacular Magens Bay. You can still have a great time in St. Thomas if you pick your spot.
Anguilla. In my view one of the best islands to choose to avoid the seaweed. It's a long, narrow east/west island with none of its spectacular beaches facing east. All beaches face north or south and are at least semi-protected. Sure. There's occasional seaweed on these beaches. But nothing like on most other islands. Of course, I'm prejudiced. This is my favorite island. I've written a separate blog about it and am going there this winter.
St. Martin. The French side of the island is its eastern end and many of the French-side beaches are relatively unprotected from seaweed. That includes the famous Orient Beach, the "St. Tropez of the Caribbean." Better to go to the Dutch side where beaches face west. It's a great island on the French side. I love it. Damn the seaweed.
St. Barts. Marigot, Grand-Cul de sac, Petit-Cul de sac, and Anse des Cayes bays and their beaches are closed to swimming by mass inundation of seaweed. The best beaches on the island are in St. Jean's Bay and aren't affected as much, but I am told there is an odor of rotting seaweed in Gustavia, the world famous shopping and party town. This is a terrible tragedy. St. Barths brings the best of France to the Caribbean.
Antigua. Another good choice. A lot of beaches and very few facing east. Dickenson Bay, a mile of white sand, is particularly well protected, but almost all resorts have lovely beaches protected either by the direction in which they face or a point of land blocking the seaweed. Nelson's Dockyard is a unique historical site worth visiting whatever the seaweed.
Montserrat, Nevis, St. Kitts. Each of these lovely islands have serious weed problems and aren't large enough to block all weed from floating to their eastern side. Still they each have at least one nice beach that is generally free of seaweed.
Guadeloupe and Martinique. I would avoid them for reasons explained above.
St. Lucia. Much as I hate to say it as I love St. Lucia, St. Lucia has a major Sargassum weed problem. But it is mainly on beaches north of the capital, Castries. If you book around Anse Cochon or south of Soufriere you should be alright. Come visit the Pitons.
St. Vincent and the Grenadines. Many fabulous resorts on a series of small islands stretch fifty miles though normally some of the prettiest water in the Caribbean. Not now. It seems like the further south one goes the more Sargassum weed. As in Barbados the fisheries are severely affected, and many Grenadine islands are so small the weed is not blocked by the island and completely surrounds the island. It is so beautiful there that it's worth checking things out island by island. I would hope some places have been spared.
Barbados. I mentioned Barbados above as having a major seaweed problem. However, the famous Platinum Coast is generally free of much seaweed. That's the expensive area but very worthwhile, and an English feel that's special.
Grenada. A good choice as most of the resorts are on Grande Anse or Magazine Beach that face west.
I hope the foregoing doesn't put you off on the Caribbean. It is still as marvelous as ever. And how wonderful it will be when you arrive and run to the beach as I describe at the top of this article and find no seaweed. You have chosen well.
My new book, "Odyssey's Child," guides you through the islands, the culture, people, and beaches of the Caribbean, a suspense-filled, can't put it down adventure full of compassion and joy. When you book that special place in the Caribbean away from Sargassum weed, I invite you to read "Odyssey's Child" to learn more about the Caribbean. Available on Amazon.